About Body & Sole Comfort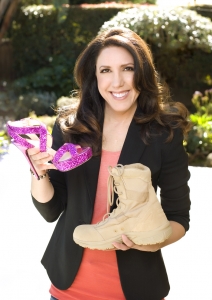 In 2008, Christina Prandini Sanchez watched in horror as a woman that wanted to wear higher heels had the balls of her feet injected with silicon to create more padding. Christina thought it was an extreme and costly measure! She asked herself…"Wouldn't it be easier to simply stick a cushion to the outside of the skin and eliminate the fear of infection while still alleviating any foot pain? What If a cushion could conform to the skin and act like a part of your body, but still be easily removed?" After several years of research with multiple focus groups, she achieved success. In 2010, Body & Sole Comfort and The Lily Pad® were born!
The Lily Pad and MK-1 Foot Armor, a U.S. Patented washable reusable foot cushion that sticks to the skin or shoe, allowing the wearer to position the cushion precisely where problem areas exist. The MK-1 Foot Armor was introduced to the U.S. Marine Corps in 2011. Since then, the product has gone nationwide in all Marine Corps Exchanges. Marines are not the only ones enjoying the comfort from her products. TV's most popular celebrity dancing stars wear The Lily Pads. Her product line has been featured on ABC's "Windy City Live" in Chicago and Los Angeles' KFI Talk Radio. Christina was selected as One Of the 20 Women to Watch in the OC by OC Metro Magazine and featured on the front page of the Orange County Register Business Section. Read more about Christina and Body and Sole Comfort here.
Christina's dream to create the ultimate removable foot cushion has come true and she feels very proud because her products are made in the USA!
Here's to many comfortable adventures with Body and Sole Comfort foot cushions!